Dear readers, I just noticed that some of the pictures in this (and maybe also other) post are missing. I have no idea what happened, I try to fix the problem and find the missing pics. Keep your fingers crossed.
Did I tell you that I have been to Palm Springs in May to take another Couture Sewing class with Claire Shaeffer? Of course I also raided Joann's and they had a sale on Simplicity patterns, 99 cents each. I went slightly out of control and bought some. Well, a lot, actually. Who cares what I said yesterday about not wanting to buy any more patterns …
To cut a long story short, I now have a stack of Simplicity patterns wanting to be tested and last weekend I started with Simplicity 2369 namely View C, the tunic.
A perfect top for my home office days and a very nice pattern for knits. I am going to make this again, maybe the dress variety.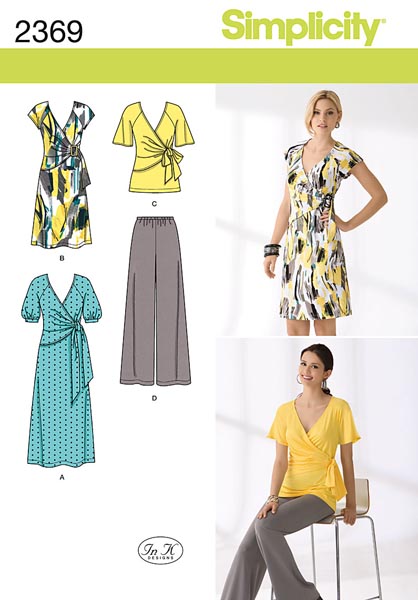 For once I do not have any complaints about the sizing, the people at Simplicity seem to have a better concept for their sizing tables than other companies. According to the table I needed size 20 and after some measuring I decided that 20 would indeed be fine. And it is. It is only a tiny little bit too large, but perfectly wearable. The next one I am going to make in 18 anyway (except for the hip part, I'll leave that as it is).
The only thing I don't like so well is the very noticeable seam in the center back. I'll try to convert it to darts the next time.
So far so good. But I am obiously unable to sew a piece of garment without making some stupid mistake or other.
I had chosen a nice firm piece of Jersey with fantasy flowers of which I had 1,50 meters. I needed 1,60 meters according to the instructions, so cutting was a challenge. I would have had to piece the tie ends.
But I didn't even make it to that part. It is an asymmetrical pattern, i.e. you have to pay attention which side of the fabric is up when cutting the front pieces. Which I didn't and so i produced tow left fronts – bingo! And there were only scraps left, so cutting a new front piece was'nt an option. After throwing my usual hissy fit I picked the pieces from the trash bin again and decided that it just HAD to work somehow. I sewed a strip of fabric to the mirror inverted front piece so it was large enough to cut a new (correct) one. Since I didn't have any more fabric by then I made the tie ends from contrast fabric.
Then I finished the top to see if it fits and if I like it. It fitted and I liked so I put my newly acquired couture sewing skills to work to gloss over my stupidity.
If you need to make a dart or seam but you don't want to destroy the pattern of the fabric, this can be solved with appliqué. In Claires Book "Couture Sewing Techninques" (the first edition of 1994) she shows this gorgeous jacket by Elsa Schiaparelli form her spectacular Circus collection of 1938. You can see the expertly done appliqué-technique on the left horse which goes over a seam.
After piecing the front part, I had a seam at a rather obivous place which I wanted to let disappear visually using this technique.
So I picked matching pattern pieces from the scraps and pinned them over the seam.
The next official step would be basting, but … well .. I am lazy. So I slip-stitched the pieces directly to the top. The seam allowance of approx. 4 mm is turned under on the go. Finally gave it a good pressing and voilà – an almost invisible seam.
See, you can use refined Couture techniques on humble jersey tops. Or you could concentrate a little more next time and save yourself a lot of time and effort 🙂 . So, can you spot the seam?